Have you ever been stuck with Magento 2? I was in the same situation. Amount of effort required to finish a complex development task is tremendous. Especially, when you are about to finish the integration with the payment service provider and it appears the integration doesn't work. One small piece is missing... Extra bit of knowledge in Magento 2.
This is a perfect time for you to get extra help and get to the next level with Magento 2. Please meet my new online course for developers willing to gain knowledge with the best practices building payment integrations in Magento 2.
New Online Course
Payment Integration in Magento 2
Gain new Magento 2 experience and knowledge with the online course
Learn from the Magento Expert
The online course is prepared by Max Pronko, a Magento Expert with over 9 years of Magento experience and payment integrations. He is a well known Magento Contributor, Coach and Consultant.
Build Payment Extension
By the end of the course you will get a Magento 2 extension which integrates with one of the TOP payment service providers in the USA.
Interactive Approach
No boring PDF slides or monotone voice explaining what's on a slide. Max's approach is unique and allows to learn fast and with fun.
Challenge for Everyone
Different lessons allow to adjust your development skills and Magento experience, so you will be ready to build any integration with Magento 2.
Start building your Magento 2 development skills
Right Now!
Was: $999 Special Price: $799
Buy Now
Unlock your new level
24/7 access to all course videos full of tips and best practices.
Ask questions directly during the online course and improve your development skills faster
Over 65 video tutorials and 9+ hours of valuable content. Follow the best practices on how to build payment integration with Gateway API.
Build confidence with Magento 2
With the Payment Integration course you will get a solid understanding on the Design Patterns and Principles used in Magento 2 platform. Your next custom Magento 2 module will look differently from what you've built already. You will get completely fresh ideas how you can level up your existing integrations as well as great understanding about Magento 2.
Learn how to create new UI Components on the Checkout pages including payment validation, form processing, custom AJAX requests.
Build Web API endpoints for the payment integration and connect backend and frontend together.
Learn Payment Gateway API architecture including Command, Builder, Handler, Validator, Client and much more.
What our students say about the Magento 2 online course
Testimonials
I liked the level of details Max shared during the course. He showed me how to use gateway API and build the payment module in Magento 2. I recommend this online course.

David O'Connor

Full-time Magento Developer
This is the go-to guide to understanding Magento 2. Whether you're new to the scene or a seasoned Magento developer, you'll find helpful tips on how to create a payment module and utilize the platform to its fullest.

Matthew Rainel

Chief Technical Officer
This is one of the best Magento 2 online courses. Very clear and to the point. I've got great experience along the course and it helped me to finish the integration for the client. Thanks you very much Max for the course.

Dmytro Omelchenko

Magento Developer
I liked Max's payment course. I want more courses like this. Still trying to get a better understanding about Magento 2 but I already have working results in my code.

Islam Bothit

PHP developer
I was sceptical about the course but now I am absolutely happy with what I've got for the money I paid. Recommend to everyone.

Andriy Osadchiy

Magento Software Developer
Start building your Magento 2 development skills
Special Price: $799
Right Now!
Buy Now
Now my friend, you have just finished reading my message and it is time to act. Maybe, next time you will see an AbstractMethod class usage for a payment integration and non-PCI compliant version of the payment extension in Magento 2 you will stop by and provide your valuable feedback or maybe even rebuild payment extension from scratch with all the new knowledge you will gain from this online course.
See you there!
Max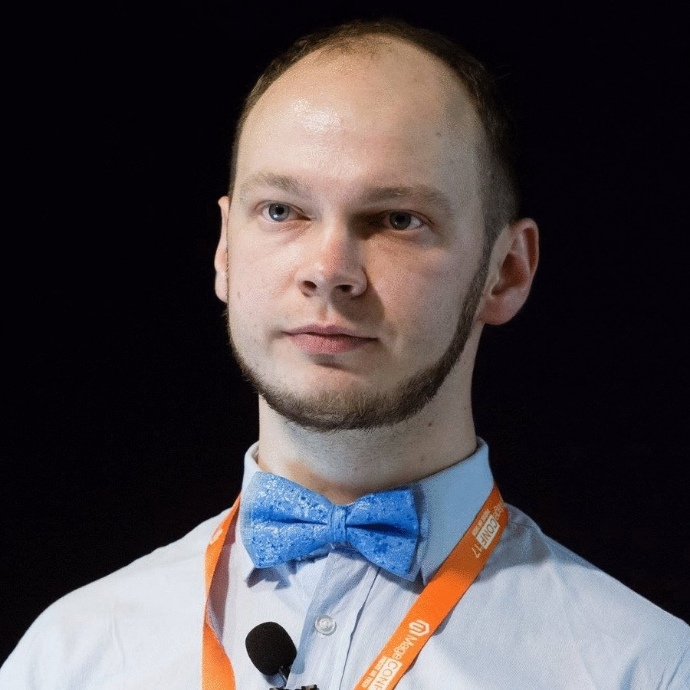 Max Pronko is an international Magento Expert, development consultant, motivational speaker and Magento award-winning developer. He is known for the educational development programs for organizations of all sizes and has positively affected thousands of people and organizations worldwide.
Course Materials
Video Tutorials