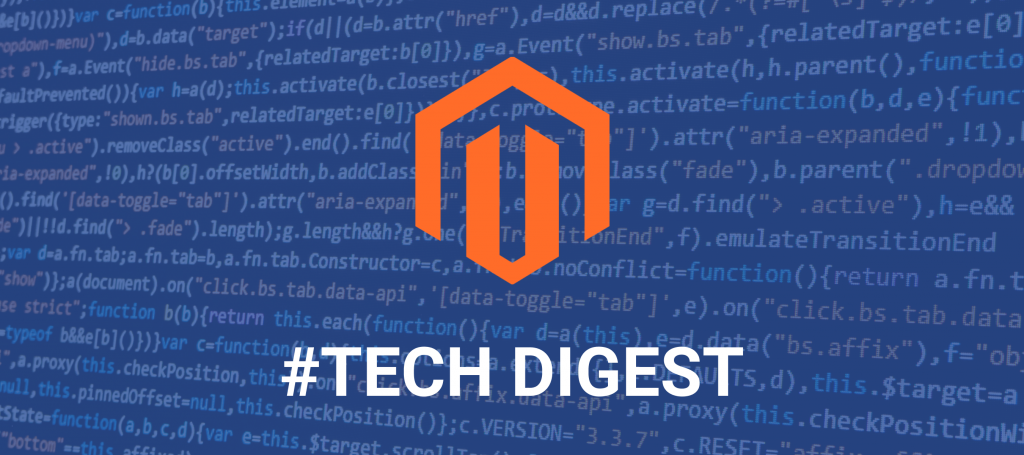 The Magento Tech Digest is the biggest collection of resources dedicated to Magento development and the related matters. Here, you can find opinions and recommendations of Magento professionals, various how-tos, products reviews, event announcements, and video tutorials.
For Magento beginners, this is a great place to tap to the knowledge of development gurus. For experienced developers, this is an opportunity to find information on eCommerce innovations, discuss new tools and techniques. For anyone wishing to share knowledge and learn about the latest trends in Magento development, we include announcements of upcoming events.
Just click through the links and stay abreast of the latest news from the Magento universe!
Also browse our previous Magento Tech Digest #44.
Magento Merchant Tutorials
Magento 2 Backend
Magento 2 Frontend
Vue Storefront
General
Magento Blog
Import/Export
Magento Community Updates
Video Tutorials
Tools
News
Firebear Studio launches new Magento channel on Telegram.
We have started Telegram chanel #Magento Ecosystem to share best content from all around the internet for merchants, developers and CI. Subscribe until it's hot, no spam and no more that one post per day! https://t.co/cd1QmpVyjb#magento2

— FireBear Studio (@fbeardev) February 9, 2019
Mark Shust is going to launch new online course "Setup a Magento 2 Development Environment with Docker". Sign up for hist newsletter to hear first.
new (free) screencast course coming soon:
Setup a Magento 2 Development Environment with Docker. signup to get notified when it gets released at https://t.co/uKQBppir2c #magento #magento2 #docker pic.twitter.com/BWtoMKi6a3

— Mark Shust ☕️? (@markshust) February 4, 2019
An interesting discussion about immutable SKU, 137 votes and 50%/50% final results.
Hey #Magento people. This week we had two interesting chats about Product SKU mutability vs immutability. What's your opinion on that? Drop a comment with your reasoning https://t.co/R7fsCvUMr7

— Igor Miniailo (@iminyaylo) February 2, 2019
Events
Summing up
If you come across some Magento-related resources that you think are worth following, please share them with me, and I may include them in the Magento Tech Digest, too.