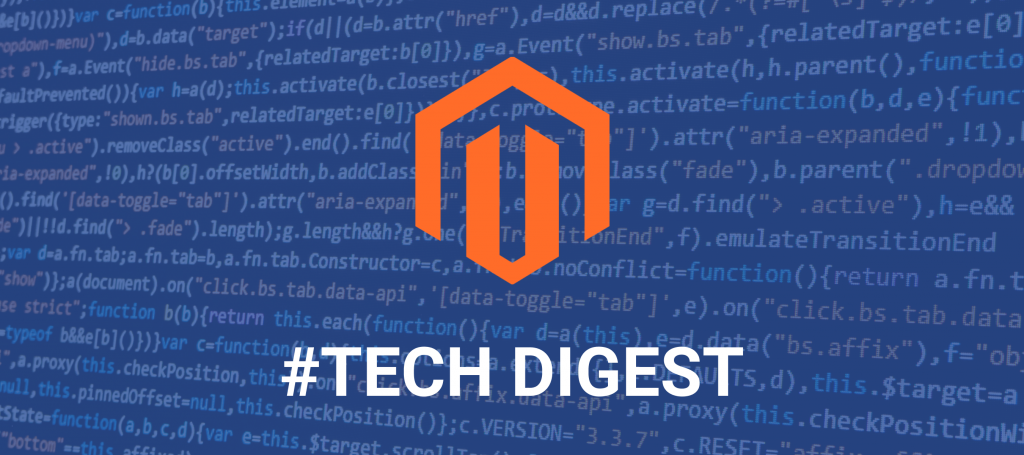 The Magento Tech Digest is the biggest collection of resources dedicated to Magento development and the related matters. Here, you can find opinions and recommendations of Magento professionals, various how-tos, products reviews, event announcements, and video tutorials.
For Magento beginners, this is a great place to tap to the knowledge of development gurus. For experienced developers, this is an opportunity to find information on eCommerce innovations, discuss new tools and techniques. For anyone wishing to share knowledge and learn about the latest trends in Magento development, we include announcements of upcoming events.
Just click through the links and stay abreast of the latest news from the Magento universe!
Also browse our previous Magento Tech Digest #46.

New Magento Channel
Before you proceed to the digest and begin learning what happened in the Magento universe in the past seven days, I have a special announcement to make. In addition to my Magento DevChannel where I share my Magento knowledge and expertise of this platform in English, I have launched a similar channel where I welcome the Russian-speaking Magento community – Max Pronko [UA/RU]. The Russian-speaking developer audience is rather large, and being a speaker of this language, I find it a great opportunity to reach my colleagues in Ukraine, Belarus and other Russian-speaking regions where there are lots of Magento 2 developers – by the way, did you know that Magento 2 was originally developed in Ukraine? Subscribe to my new channel to find out the latest Magento news, tips, tricks and best practices – now also in Russian and Ukrainian!
General
What are the Main Advantages and Disadvantages of Magento for Online Store? by Mary Dorogokupets
Microsoft Dynamics AX Magento 2 Integration (Dynamics 365 for Finance and Operations) by FireBear Studio
Microsoft Power BI Integration for Magento 2 by FireBear Studio
Max Pronko named among 50 top Magento contributors of 2018 by Pronko Consulting
Comparison: Elasticsearch integration by Magento and Amasty by Eugene Obukhovsky
Magento Tech Digest #46 by Max Pronko
Top 10 Reasons To Choose Magento For Ecommerce by Syed Muneeb Ul Hasan
Magento Tutorials
How to get all Orders of Customer by Email ID in Magento 2 by MageComp
How to replace Simple Textarea with WYSIWYG Editor for Contact us page in Magento 2 by MageComp
How to Programmatically Check Particular Cron is Currently Running or not in Magento 2 by MageComp
How to Migrate from Tictail to Magento 2 or Sync Data Between Them by FireBear Studio
How to Migrate from Volusion to Magento 2 or Sync Data Between Them by FireBear Studio
Magento 2 get product collection by Magento 2 Blog
Resolving Session Bottleneck in Magento AJAX Requests by Fabian Schmengler
Create a product attribute data patch with Magento 2.3's declarative schema by Mark Shust
Magento PWA Development
DEITY – The Fire Of Magento 2 PWA Development by FireBear Studio
Extensions
New Global Payments extension with Magento 2.3 support by Pronko Consulting
Events
Magento Takes Center Stage in Australia for 2019 by Syed Muneeb Ul Hasan
4 reasons why you shouldn't miss MageTestFest by Jisse Reitsma
Magento Community Updates
PWA Community Meeting, February 22, 2019 by Magento Community Engineering
Community Engineering Newsletter, February 4 – 15, 2019 by Ikrell
New MTF to MFTF Conversion Project by Ikrell
Video
Magento MSI Open Demo. February 22, 2019 by Igor Miniailo
Summing up
If you come across some Magento-related resources that you think are worth following, please share them with me, and I may include them in the Magento Tech Digest, too.