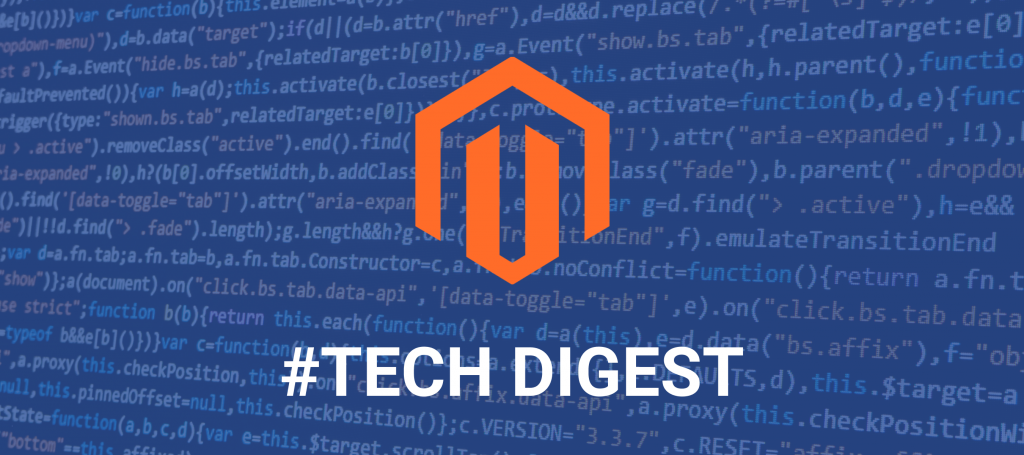 The Magento Tech Digest is the biggest collection of resources dedicated to Magento development and the related topics. Here, you can find opinions and recommendations of Magento professionals, various how-tos, products reviews, event announcements, video tutorials, and much more.

For Magento beginners, this is a great place to tap to the knowledge of development gurus. For experienced developers, this is an opportunity to find information on eCommerce innovations, discuss new tools and techniques. For anyone wishing to share knowledge and learn about the latest trends in Magento development, there are announcements of upcoming events.

Just click through the links and stay abreast of the latest news from the Magento universe!

In addition, browse the previous Magento Tech Digest #66.
Magento Tutorials
How to Create Landing Pages in Magento? by Viachaslau Kulbitski
How to Create URL Redirect in Magento? by Alexey Kolchenko
How do we Hire at MageComp? Current Openings & Our Hiring Process by MageComp
How to add New custom Step / Section in the Checkout of Magento 2 by MageComp
How to Use Grunt in Magento 2 by Firebear Studio
Magento 2 Search: Beginner's Guide [+NEW 2019 INFO] by Eugene Obukhovsky
Promotion Rules in Magento 2: Comprehensive Guide by Alexander Kosarau
Eye-Catching Rules for Building Attractive Ecommerce Store by Syed Muneeb Ul Hasan
How to Redirect Customers to The Previous Page After Login in Magento by Sanjay Jethva
How to Hide an Empty Custom Tab in Magento 2 by Sanjay Jethva
How to Get WYSIWYG Editor's data in Magento 2 Frontend by Sanjay Jethva
How to Override a phtml File Using a Custom Module in Magento 2 by Sanjay Jethva
How to Redirect Customer Login or Registration Success to Checkout in Magento 2 by Sanjay Jethva
The Easiest Way to install Sample data after installing Magento2 by Mr-Jute
How to generate your authentication keys for Magento2 by Mr-Jute
Solution for : VirtualAlloc() failed: [0x00000008] Not enough storage is available to process this command in magento2 by Mr-Jute
How To Get Product List (Catalog) Through Magento 2 API? by April Lee
Import and Export
Magento 2 search terms and synonyms, and how to import and export them by Firebear Studio
Magento Community Updates
Easier upgrades with new Composer plugin! by Pdohogne
3D Secure 2.0 changes by Isentiabov
News
Latest Magento and Adobe-Related News [June] by Polina Litreyeva
Atwix MageNews – July 2019 by Roman Glushko
Video
A Day in Life of a Magento Developer | Remote in Dublin by Max Pronko
Magento Architectural Discussion — July, 10, 2019 by Magento Community Engineering
How to build Custom Theme in Magento 2 | Max Pronko (4K) by Max Pronko
How to create Hello World module in Magento 2 Max Pronko
Events
MageCONF 2019, Kyiv, Ukraine on September 27-28
General
Magento Tech Digest #66 by Max Pronko
How to Pass the Magento 2 Certification by Firebear Studio
The Best Solutions For Local Magento 2 Development (Apache/Nginx, PHP, MySQL stack on Windows and OS X) by Firebear Studio
Magento 2 Roadmap by Firebear Studio
Mobile Optimization Insights: Test, Test, Test by Caitlin Mekita
Top 50 Global Businesses Developed On The Magento Ecommerce Platform by Aleksandra Kwiecień
Summing up
If you come across some Magento-related resources that you think are worth following, please share them with me, and I may include them in the Magento Tech Digest, too.