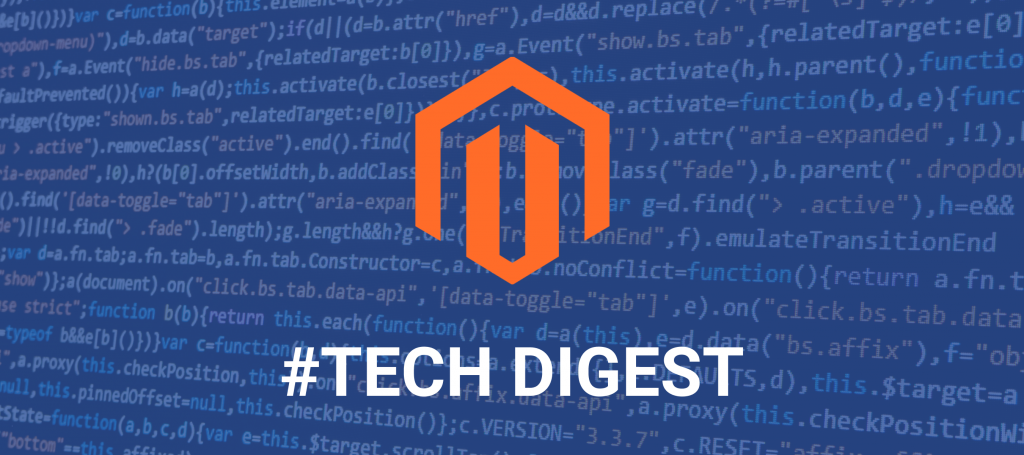 The Magento Tech Digest is the biggest collection of resources dedicated to Magento development and related topics. Here, you can find opinions and recommendations of Magento professionals, various how-tos, products reviews, event announcements, video tutorials, and much more.

For Magento beginners, this is a great place to tap to the knowledge of development gurus. For experienced developers, this is an opportunity to find information on eCommerce innovations, discuss new tools and techniques. For anyone wishing to share knowledge and learn about the latest trends in Magento development, there are announcements of upcoming events.

Just click through the links and stay abreast of the latest news from the Magento universe!

In addition, browse the previous Magento Tech Digest #73.
Magento Tutorials
Slow Magento Site? Here's How To Improve The Shopping Experience by Graeme Caldwell
Securing A Magento Store: Seven Tips For Keeping The Hackers Out by Graeme Caldwell
Magento 2 Backend Exploration: Shipments by Firebear Studio
Magento 2 Advanced Product Options: New Features Explained by Ellie Yantsan
Magento Optimization for Google PageSpeed Insights – the Complete Guide on Getting to the 100 Score by Andrew Berzhinskiy
Why Your Magento 2 Admin Panel Is Slow and How to Fix It by Vasili Nikolaev
9 Tips on How to Improve Abandoned Carts Recovery in Magento 2 Stores by Aitoc Team
How To Get A Product By REST API and GraphQL In Magento 2? by April Lee
Magento 2 Customer Groups Configuration by Josip Kovacevic
Magento 2 logging by Matej Maricic
PHP
How to write a Delete SQL query using Standard way without Model File in Magento 2 by Dhiren Vasoya
How to get a store in Magento 2 programmatically? by Firebear Studio
Create PDF Invoices No Other Magento Store Has by Polina Litreyeva
How to Add Custom Button in Magento 2 System Configuration by Sanjay Jethva
How to Check if a Customer is Logged into Magento 2 by Sanjay Jethva
UI Components Grids – Magento 2 UI Bookmarks and their effects by Tom Dollar
Magento 2: Working with Wishlist by Elpas0
XML
How to Add a Custom Column in Order Grid in Magento 2 by Sanjay Jethva
Extensions
Gumroad Widget by Pronko Consulting – Available! by Pronko Consulting
PWA
PWA! But when? Yesterday? Now? Tomorrow? by Christian Philipp
Import and Export
Insightly Overview & Magento 2 Integration by Firebear Studio
Zoho CRM Overview & Magento 2 Integration by Firebear Studio
Magento Community Updates
Changes to supported PHP versions due to PHP 7.1 End of Life by Michernenko
Magento Security Patch SUPEE-11155 Released by AheadWorks
News
Last call for Magento 2 Backend Developer Training by Pronko Consulting
Adobe (Magento) Named a Leader in 2019 Gartner Magic Quadrant for Digital Commerce Platforms by Magento
Video
Magento Adobe Stock Integration public meeting. August 28, 2019 by Magento Community Engineering
Magento Architectural Discussion — August, 28, 2019 by Magento Community Engineering
Magento PWA Community Update 30 August, 2019 by Magento Community Engineering
Unit Testing changes in di xml Magento 2 by Max Pronko
AWS SES for Transactional Emails in Magento 2 by Max Pronko
Как создать Hello World модуль в Magento 2 by Max Pronko UA
What to consider when evaluating eCommerce platforms by ECommerceAholic
How to hire great developers…it's not that complicated by Commerce Hero
Events
Meet Magento Singapore 2019 at Marina Bay Sands by Dasha M.
Meet Magento Spain in Madrid, ES on October 28th.
Magento Events in September 2019 by Robert Bailey
General
Magento Tech Digest #73 by Max Pronko
Another Certified Magento 2 Professional Front End Developer by Mary D.
Keep These Things in Mind Before Hiring Magento Developers by Gaurav Jain
What Makes Magento 2 the Best Platform for eCommerce Development in 2019? by Harshal Shah
Things to keep in mind before Hiring Magento Developer for your Next Project by MageComp
SmartOSC – A Company That Creates Data-Driven Magento Websites by Firebear Studio
#MagentoTuesday Community Digest 2019.08.27 by Sherrie
Rethinking Placement & Price in the Age of the Amazon Buy Box by Kathy Ury
Ready to integrate Microsoft Dynamics ERP with Magento Commerce? by Magento
How to contribute to Magento 2 translations by Sonja Riesterer
The Top Magento Agencies by Jack D'Errico
Summing up
If you come across some Magento-related resources that you think are worth following, please share them with me, and I may include them in the Magento Tech Digest, too.

Meantime, I'm thinking about my next training and a location for it. If you are interested, let me know what topics you'd like me to cover and where it is better for you to attend a training. See you soon!