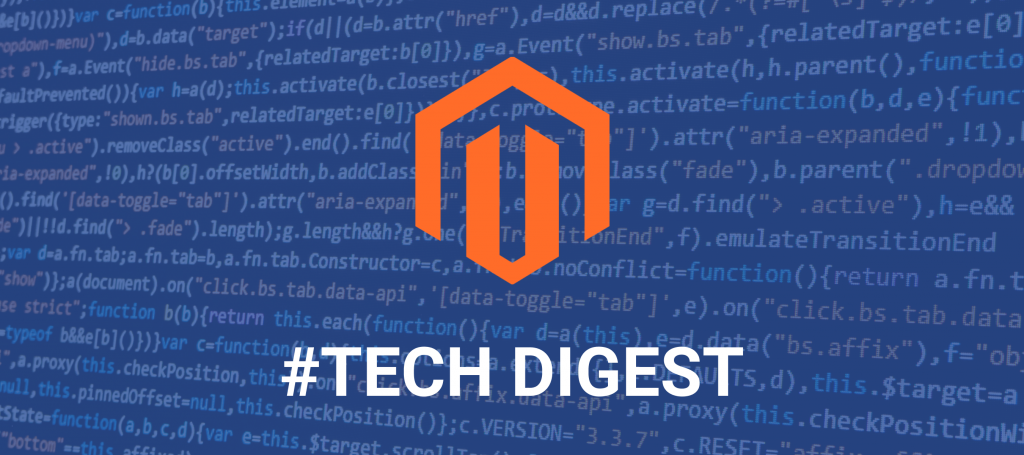 The Magento Tech Digest is the biggest collection of resources dedicated to Magento development and related topics. Here, you can find opinions and recommendations of Magento professionals, various how-tos, products reviews, event announcements, video tutorials, and much more.

For Magento beginners, this is a great place to tap to the knowledge of development gurus. For experienced developers, this is an opportunity to find information on eCommerce innovations, discuss new tools and techniques. For anyone wishing to share knowledge and learn about the latest trends in Magento development, there are announcements of upcoming events.

Just click through the links and stay abreast of the latest news from the Magento universe!

In addition, browse the previous Magento Tech Digest #76.
Magento Tutorials
Magento 2 Backend Exploration: Credit Memos by Firebear Studio
Magento 2 Backend Exploration: Products by Firebear Studio
"We can't find products matching the selection" in Magento 2.3 | Products are not visible on website frontend magento2 by Mr. Jute
PHP
How to Lock Customer Account if They belong to Specific Customer Group in Magento 2 by Dhiren Vasoya
How to write and get config values by scope in Magento 2 by Firebear Studio
Extensions
3 Extensions to Boost Store Efficiency and Productivity by Pronko Consulting
Import and Export
FireBear Improved Import & Export for Magento 2 – Extension Change Log by Firebear Studio
PipelineDeals Overview & Magento 2 Integration by Firebear Studio
News
Atwix MageNews – September 2019 by Roman Glushko
Video
Improved Import Export by Firebear Studio Review – EP 3 by Max Pronko
PHP приложение с использованием Routing и Controller by Max Pronko UA
MFTF v2.5.0 demo by Magento Community Engineering
Magento Adobe Stock Integration public meeting. September 17, 2019 by Magento Community Engineering
Magento Architectural Discussion — September, 18, 2019 by Magento Community Engineering
Magento PWA Studio Community Meeting Sept. 20, 2019 by Magento Community Engineering
MFTF Quick Guides – Output & Allure by Magento Community Engineering
Ask Me Anything Episode 1: Development Tools, Magento 2 Exam, & PHPStorm IDE by Max Pronko
The Ask Me Anything Episode #2: Magento 2 core, Magento 2 Performance and bow-ties by Max Pronko
The Ask Me Anything Episode 3: Magento 2 Future with Adobe, new website and CSS/LESS/VUE by Max Pronko
What you should do now to make sure your site is ready for Black Friday by
eCommerceAholic
Events
Meet Magento Japan in Tokyo, JP on November 5th.
Meet Magento Asia in Bangkok, TH on November 7th.
General
Magento Tech Digest #76 by Max Pronko
What is the process of website development? Steps, Ideas & Goals by Dasha M.
6 Website Hosting Providers You Need to Know Before Making a Purchase by Juliette Anderson
Know Your Audience And Competitors On Social Channels To Drive More Website Traffic by Walter Moore
Polishing your Marketplace submission: 7 tips from the Marketplace EQP team by Iakobchu_maks
#MagentoMonday Community Digest 2019.09.16 by Sherrie
The Democratization of Industrial Automation and Robotics by Vanessa Holl
3 Tips on How to Improve Delivery Strategy with Magento 2 Dimensional Shipping by Aitoc Team
Summing up
If you come across some Magento-related resources that you think are worth following, please share them with me, and I may include them in the Magento Tech Digest, too.