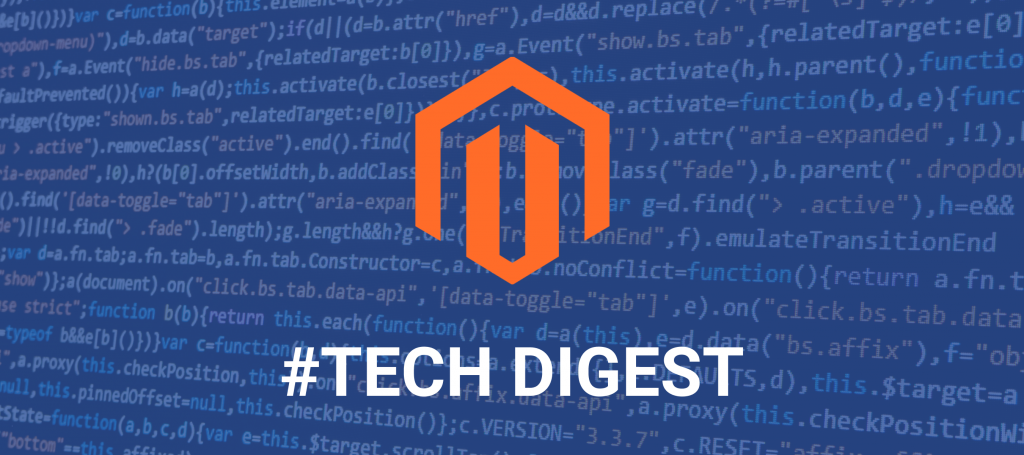 The Magento Tech Digest is the biggest collection of resources dedicated to Magento development and the related topics. Here, you can find opinions and recommendations of Magento professionals, various how-tos, products reviews, event announcements, video tutorials, and much more.

For Magento beginners, this is a great place to tap to the knowledge of development gurus. For experienced developers, this is an opportunity to find information on eCommerce innovations, discuss new tools and techniques. For anyone wishing to share knowledge and learn about the latest trends in Magento development, there are announcements of upcoming events.

Just click through the links and stay abreast of the latest news from the Magento universe!

In addition, browse the previous Magento Tech Digest #47.

Magento Tutorials
How to Manage Promotion Options in your Magento Store by Mary Dorogokupets
A Complete Guide for Google Shopping Optimizations for Your Ecommerce Business by MageComp
Magento UI Component Magical Data Providers by Max Chadwick
Add Custom Option in Product Programmatically in Magento 2 by Rakesh Jesadiya

Extensions
Authorize.NET Payment Method extension for Magento 2 by Pronko Consulting
General
What are the Main Advantages and Disadvantages of Magento for Online Store? by Mary Dorogokupets
#MagentoMonday Community Digest 2019.02.25 by Sherrie Rohde
Top 10 Reasons To Choose Magento For Ecommerce by Syed Muneeb Ul Hasan
ECommerce Conversion Rate Optimization 2019: Best Practices by Magento
The Different Types of e-Commerce by Jack D'Errico
A Guide to Influencer Marketing for e-Commerce by Jack D'Errico
Magento Tech Digest #47 by Max Pronko
Import and Export
How to Migrate from Volusion to Magento 2 or Sync Data Between Them by FireBear Studio
Events
Heading to 5 Important Magento Events in 2019 by MageHit
4 reasons why you shouldn't miss MageTestFest by Jisse Reitsma
Calling out all Magento developers who want to improve their testing skills – visit MageTestFest! by Maja Kardum

Magento Community Updates
Community Engineering Newsletter, February 18 – 22, 2019 by Ikrell
Authorize.Net Direct Post Patch for M2 and M1 by Ikrell
Video
Magento MSI Open Demo. March 1, 2019 by Igor Miniailo
PWA Community Meeting, February 22, 2019 by Magento Community Engineering
Summing up
If you come across some Magento-related resources that you think are worth following, please share them with me, and I may include them in the Magento Tech Digest, too.