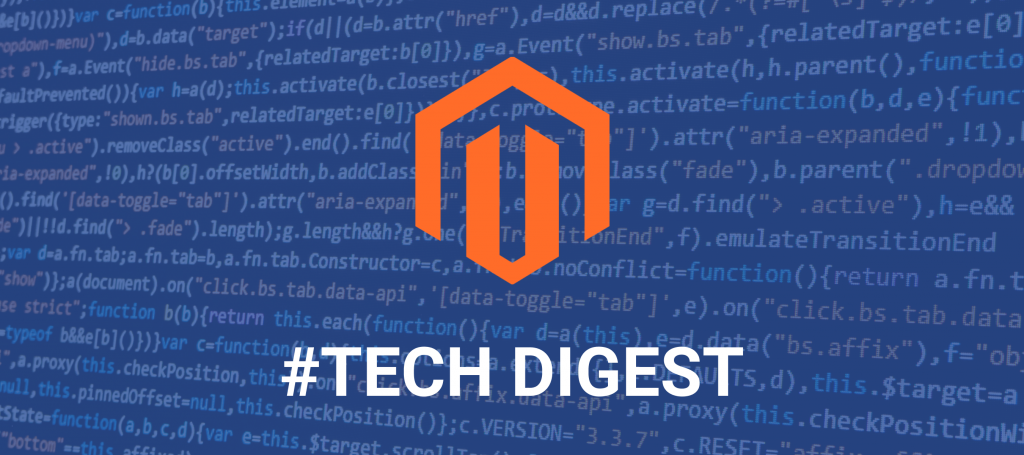 The Magento Tech Digest is the biggest collection of resources dedicated to Magento development and the related topics. Here, you can find opinions and recommendations of Magento professionals, various how-tos, products reviews, event announcements, video tutorials, and much more.

For Magento beginners, this is a great place to tap to the knowledge of development gurus. For experienced developers, this is an opportunity to find information on eCommerce innovations, discuss new tools and techniques. For anyone wishing to share knowledge and learn about the latest trends in Magento development, there are announcements of upcoming events.

Just click through the links and stay abreast of the latest news from the Magento universe!

In addition, browse the previous Magento Tech Digest #48.
Magento Tutorials
How to fix Error 503 (Service Temporary Unavailable) in Magento 2 by Firebear Studio
Make Magento 2 small again by Andreas von Studnitz
Declarative Schema in Magento 2.3 and Higher – a Comprehensive Review by Iren Linnik
Enabling Template Path Hints in Magento 2 by BlogTreat
Import and Export
How to debug and log Magento 2 import and export process and errors by Firebear Studio
The Complete Guide to Magento 2 Virtual Products, and how to import them by Firebear Studio
MySQL
Product Custom option table relation with other entity in Magento 2 by Rakesh Jesadiya
PHP
How to perform Reindexing Programmatically in Magento 2 by MageComp
How to set firstname and lastname with minimum two character in Magento 2? by Rakesh Jesadiya
How to generate random string or number in Magento 2? by Rakesh Jesadiya
Get is_comparable attribute list programmatically in Magento 2. by Rakesh Jesadiya
General
#MagentoMonday Community Digest 2019.03.04 by Sherrie Rohde
Atwix MageNews – March 2019 by Roman Glushko
Is it worth covering Magento 2 code by automated tests? by Maria Zayac
Magento Innovations Lab Round 3 Showcase by Magento
eCommerce Platform Selection: The Big Four by Jack D'Errico
Magento 2 Language Package Explained by NWDThemes
Magento Tech Digest #48 by Max Pronko
New Authorize.NET Payment Method Extension Release for Magento 2 by Pronko Consulting
How to Migrate from 3dcart to Magento 2 or Sync Data Between Them by Firebear Studio
How to repair Magento 2 database by Firebear Studio

JavaScript
How to use jQuery and requireJS in Magento 2? JavaScript Solutions by Denis Kulikouski
Magento Community Updates
Community Engineering Newsletter, February 25 – March 1, 2019 by lkrell
Video
Advice for ALL Magento 2 DEVELOPERS by Max Pronko
Magento Async Import #13 – Stepan Runs Out Of Money (March 6 2019) by Magento Community Engineering
Magento MSI Open Demo. March 8, 2019 by Igor Miniailo
PWA Community Meeting March 3, 2019 by Magento Community Engineering
Events
Mage Titans Mexico in Mexico City, MX on March 21st
Meet Magento Italy in Milan, IT on April 2-3rd
Meet Magento Netherlands in The Hague, NL on April 18th
Summing up
If you come across some Magento-related resources that you think are worth following, please share them with me, and I may include them in the Magento Tech Digest, too.