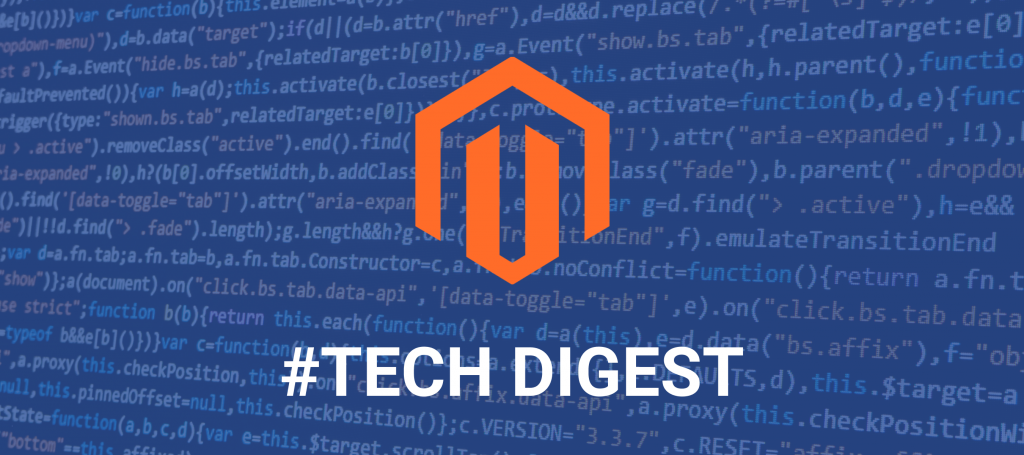 The Magento Tech Digest is the biggest collection of resources dedicated to Magento development and the related topics. Here, you can find opinions and recommendations of Magento professionals, various how-tos, products reviews, event announcements, video tutorials, and much more.

For Magento beginners, this is a great place to tap to the knowledge of development gurus. For experienced developers, this is an opportunity to find information on eCommerce innovations, discuss new tools and techniques. For anyone wishing to share knowledge and learn about the latest trends in Magento development, there are announcements of upcoming events.

Just click through the links and stay abreast of the latest news from the Magento universe!

In addition, browse the previous Magento Tech Digest #54.
Magento Tutorials
How to add Checkout Custom Form Validation using knockout JS in Magento 2 by MageComp
How To Deal With SEO Traffic Loss Due To Magento 2 Migration by MageComp
How to unleash multi source inventory powers? A guide by Elizaveta Barkalina
How To Use Custom Local Storage & Cookie Storage In Magento 2? by April Lee
How To Configure Different Languages For Magento 2 Websites? by April Lee
Import and Export
Magento 2 Punchout Catalog & Supplier Procurement by Firebear Studio
Magento Community Updates
Community Engineering Update – March 2019 by MrManners
Imagine 2019 Community Contributor Guide by lkrell
News
A Farewell Message from Mark Lavelle by Mark Lavelle
Video
Magento 2 Controller vs Symfony Controller – Who is the WINNER? by Max Pronko
Listing Component in Magento 2 Customer Account by Max Pronko
Mastering Layout Configuration in Magento 2 by Max Pronko
Hello World in Magento 2 in 60 seconds ONLY by Max Pronko
Layout Rendering in Magento 2 by Max Pronko
Magento Meetup Kyiv и Не Контрибьюшин День by Max Pronko
PHPStorm Live Templates для быстрого создания Magento 2 модулей by Max Pronko
Events
MagentoLive Europe in Amsterdam, NL on October 22-23rd.
#RoadtoImagine 2019: Capturing Exceptional Experiences by Magento
General
Magento Tech Digest #54 by Max Pronko
6 ways to increase Average Order Value in your Ecommerce Store by MageComp
#MagentoMonday Community Digest 2019.04.15 by Sherrie
Magento 2 Directory, Module & Theme Catalogue Structure by Andrey Litvin
Why doesn't Magento grow? by Alex Normann
Content management tools for Magento-based DTC brands by Tom Karwatka
Summing up
If you come across some Magento-related resources that you think are worth following, please share them with me, and I may include them in the Magento Tech Digest, too.