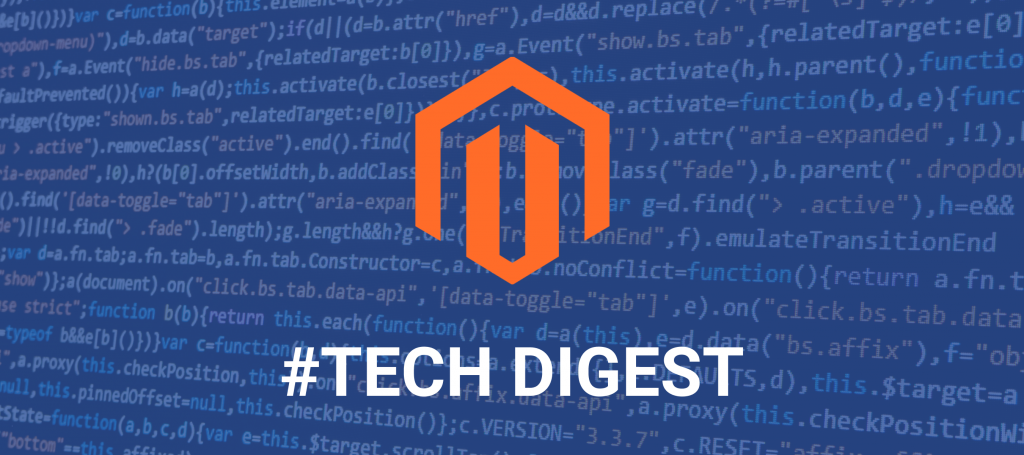 The Magento Tech Digest is the biggest collection of resources dedicated to Magento development and the related topics. Here, you can find opinions and recommendations of Magento professionals, various how-tos, products reviews, event announcements, video tutorials, and much more.

For Magento beginners, this is a great place to tap to the knowledge of development gurus. For experienced developers, this is an opportunity to find information on eCommerce innovations, discuss new tools and techniques. For anyone wishing to share knowledge and learn about the latest trends in Magento development, there are announcements of upcoming events.

Just click through the links and stay abreast of the latest news from the Magento universe!

In addition, browse the previous Magento Tech Digest #56.
Magento Tutorials
Programmatically Add/Remove Attribute Group in Magento 2 by BlogTreat
How to Recover Deleted Customers from Order details in Magento by MageComp
How to Start your First Ecommerce Business, What questions would you have in mind? by MageComp
How to get Dynamic Generated row value of System Configuration in Magento 2 by MageComp
How to set up Google feeds in 7 steps with feed wizard (updated in 2019) by Alexandra Zhos
How to Display, Add, or Remove Related, Upsell, and Cross-Sell Products in Magento 2 by Sanjay Jethva
Assign custom theme programmatically to store in Magento 2 by Qaisar Satti
Import and Export
Xero Overview & Magento 2 Integration by Firebear Studio
Zoho Books Overview and Magento 2 Integration by Firebear Studio
Data Migration Tool from BlueFoot to Page Builder by lkrell
Magento Community Updates
Community Engineering Newsletter, April 8 – 12, 2019 by lkrell
Community Engineering Hangouts – BulkApi examples by Magento Community Engineering
Community Engineering Newsletter, April 15 – 19, 2019 by lkrell
Video
How to establish an extension development Business? by Max Pronko
Magento 2 Payments Refactoring using Service Oriented Architecture by Max Pronko
How to install and configure Elasticsearch server and extension in Magento 2 by Max Pronko
Что я выбрал как фронтенд сайта VueJS или ReactJS? by Max Pronko
Какую книгу о микросервисах я рекомендую by Max Pronko
Immutability of DTOs open discussion. April 29, 2019 by Igor Miniailo
Magento Architectural Discussion — May 1, 2019 by Magento Community Engineering
PWA Community Update May 3rd, 2019 by Magento Community Engineering
Taking conference swag to the next level by eCommerceAholic
What is Adobe Commerce Cloud? by eCommerceAholic
Events
Magento 2 Developer Training, New York, May 23-24, 2019 by Max Pronko
Do not miss upcoming Magento developer trainings in New York by Pronko Consulting
10 Reasons To Drop What You Are Doing And Register For Imagine – now by Kristine Hamlett
Infographic: Imagine by the Numbers by Magento
Magento Imagine 2019 predictions and expectations by Atwix
General
Magento Tech Digest #56 by Max Pronko
One More Magento 2 JavaScript Certified Developer at BelVG by Mary Dorogokupets
How to Start your First Ecommerce Business, What questions would you have in mind? by Kristy Davis
10 Best Comparison Shopping Engines + Free PDF Guide [updated in May] by Elizaveta Barkalina
#MagentoMonday Community Digest 2019.04.29 by Sherrie
Graham & Green Store Earns Magento Excellence Award Nomination by Joseph Russell
Atwix MageNews – May 2019 by Atwix
Magento vs Shopify: Which eCommerce Platform Is Best? by Nexcess
April 2019's Best WordPress, Magento, and CMS Content by Nexcess
How Mediotype Passed a Whopping 57 Certifications by Magento
How Mobecls customized Amasty extensions for Magento 2 by Tanya Dmitrieva
Faster Magento 2 Integration Tests by Jisse Reitsma
Call to Action
Follow me on Twitter and retweet this article
Follow me on Medium and clap for this article
Subscribe to my Youtube channels, both English and Ukrainian ones, and never miss a story
Summing up
If you come across some Magento-related resources that you think are worth following, please share them with me, and I may include them in the Magento Tech Digest, too.

Hurry up to reserve your seat for my upcoming training which will be held soon in New York City! We will cover such topics as: Development tools overview; Use of databases in Magento 2; Data APIs, Service APIs and Web APIs; Customization of Magento UI.

During 2-day Magento 2 Developer Training there will be not only theoretical material, but also practical coverage of the topic.

Make sure to obtain your ticket today because in several days the price will rise sufficiently. Hope to meet you soon!