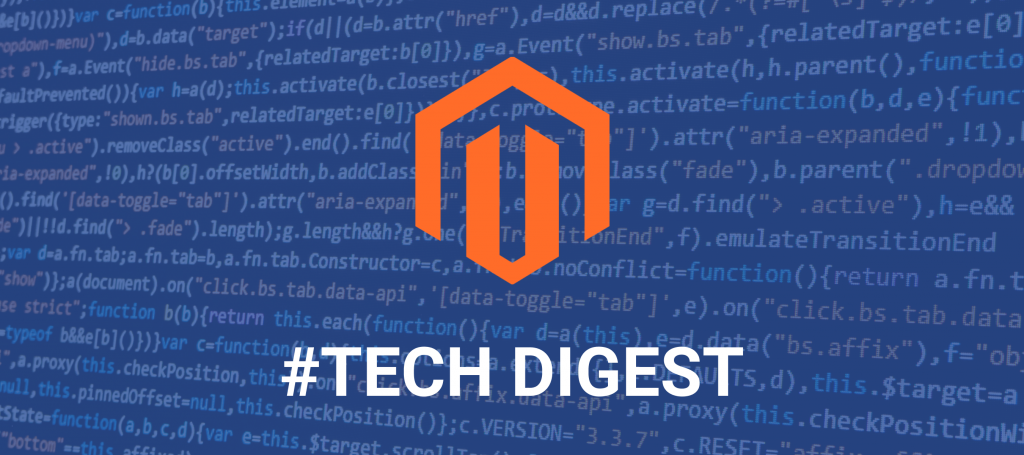 The Magento Tech Digest is the biggest collection of resources dedicated to Magento development and the related topics. Here, you can find opinions and recommendations of Magento professionals, various how-tos, products reviews, event announcements, video tutorials, and much more.

For Magento beginners, this is a great place to tap to the knowledge of development gurus. For experienced developers, this is an opportunity to find information on eCommerce innovations, discuss new tools and techniques. For anyone wishing to share knowledge and learn about the latest trends in Magento development, there are announcements of upcoming events.

Just click through the links and stay abreast of the latest news from the Magento universe!
In addition, browse the previous Magento Tech Digest #62.
Magento Tutorials
Payment Integration in Magento 2 by Max Pronko
Magento 2: Update Item QTY in Cart Page Using AJAX by BlogTreat
How to Set up Magento Shipping by Aleksander Kutseika
How to Update Shipping Method Section of Cart Page Using Ajax in Magento 2 by MageComp
Starter Guide to Magento 2 Cron Job [Updated in 2019] by Stanislav Kharlap
How To Use Stripe Connect With Custom Account (Vendor Account) In Magento 2? by April Lee
Magento2 | Cache Management for Beginner | Part1 by Mr. Jute
Import and Export
CRMNEXT Overview & Magento 2 Integration by Firebear Studio
Pega CRM Overview & Magento 2 Integration by Firebear Studio
News
Read Fresh Magento Front-Page News To be a Great Interlocutor by Polina Litreyeva
Atwix MageNews – June 2019 by Roman Glushko
Video
Magento Functional Testing Framework v2.4.1 Demo by Magento Community Engineering
Magento Meetup London by Max Pronko
Magento Imagine at Adobe Summit – Feedback needed by
eCommerceAholice
Magento MSI Open Demo. June 14, 2019 by Magento Community Engineering
Stupid RFP requests – General Mills by eCommerceAholice
How to Leverage Text Message Marketing for Your eCommerce Business by eCommerceAholice
Events
Magento Imagine 2019 Recap: The New Beginning by Firebear Studio
Say Hello to Amasty at Meet Magento UK 2019 by Polina Litreyeva
Meet Magento UK in London, UK on June 18-19th
Mage Unconference in Cologne, DE on November 29-Dec 1st.
Meet Magento 2019 Germany: Making Relations Even Stronger by Sander Mangel
General
Magento Tech Digest #62 by Max Pronko
Opencart vs Magento – Who Wins the Crown? by Mary D.
Why Magento is the First Preference of Ecommerce Industry by MageComp
Service Oriented Architecture in Magento 2 by Max Pronko
Learn to Make Data-Driven Decisions: Add Google Analytics to Magento 2 by Polina Litreyeva
#MagentoMonday Community Digest 2019.06.10 by Sherrie
Magento 1 End of Life: What You Need to Know by Nexcess
How Magento Stores Can Benefit from Augmented Reality by Aitoc Team
Magento vs BigCommerce: Which Is A Perfect Choice For You? by April Lee
Summing up
If you come across some Magento-related resources that you think are worth following, please share them with me, and I may include them in the Magento Tech Digest, too.