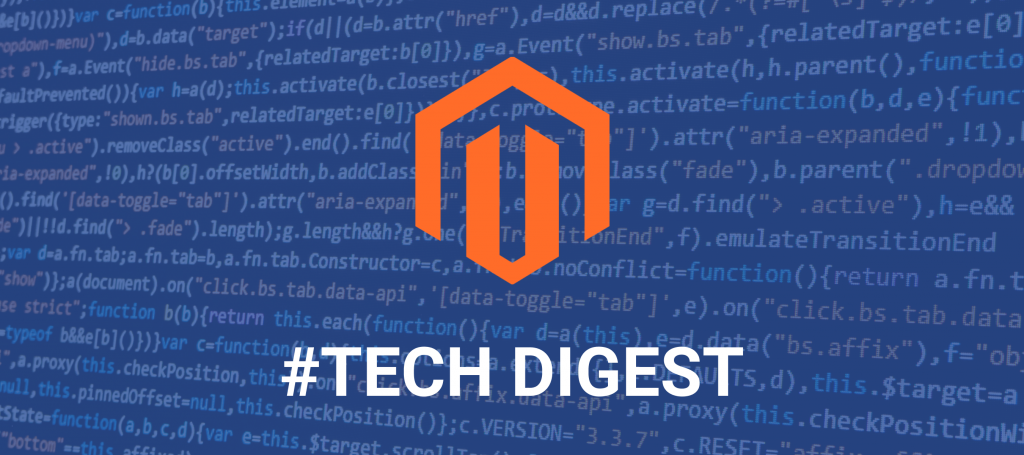 The Magento Tech Digest is the biggest collection of resources dedicated to Magento development and the related topics. Here, you can find opinions and recommendations of Magento professionals, various how-tos, products reviews, event announcements, video tutorials, and much more.

For Magento beginners, this is a great place to tap to the knowledge of development gurus. For experienced developers, this is an opportunity to find information on eCommerce innovations, discuss new tools and techniques. For anyone wishing to share knowledge and learn about the latest trends in Magento development, there are announcements of upcoming events.

Just click through the links and stay abreast of the latest news from the Magento universe!

In addition, browse the previous Magento Tech Digest #67.
Magento Tutorials
How to Create Customer Groups in Magento? by Oleg Semenov
Step by step guide to submit your Magento Extension to Magento Marketplace by Gaurav Jain
How to add Multi-select Filter in Backend Admin Grid of Magento 2 by Dhiren Vasoya
How to Add Magento 2 System Configuration Fields & Get Core Config Data Programmatically by Firebear Studio
Magento/Magento 2 Rules: Common Mistakes [Updated in 2019] by Ksenia Dobreva
How Optimizer Addresses Google Warnings? by Polina Litreyeva
How to Remove Unnecessary Customer Account Links in Magento 2 by Sanjay Jethva
[Fixed] – "Failed to Load Resources" Error After Magento 2 Installation by Sanjay Jethva
How to Restrict Quantity Update From Mini Cart in Magento 2 by Sanjay Jethva
How to Programmatically Add Product to Cart in Magento by Sanjay Jethva
How to Auto Approve Product Review For Registered Customers in Magento 2 by Sanjay Jethva
How to Add a Field to Custom Options in Magento 2? by Alexey Enikov
How to Configure Multiple Currencies in Magento 2 by Aitoc Team
How To Get Categories Through Magento 2 REST API? by April Lee
PWA
PWA & Headless Magento 2 by Firebear Studio
How To Speed Up Magento Websites: AMP or PWA? by April Lee
Import and Export
How to import and export position of the product in the category. Magento 2 visual merchandise by Firebear Studio
How to Regenerate URL Rewrites in Magento 2 by Firebear Studio
Magento Community Updates
Magento 2.4 Open Source, Commerce & Cloud: What to Expect by Firebear Studio
Video
Adobe Stock Integration weekly public meeting. July 16, 2019 by Magento Community Engineering
Magento Architectural Discussion — July, 17, 2019 by Magento Community Engineering
Magento PWA Community Update July 19, 2019 by Magento Community Engineering
Ask Me Anything Episode 1: Development Tools, Magento 2 Exam, & PHPStorm IDE by Max Pronko
The Ask Me Anything Episode #2: Magento 2 core, Magento 2 Performance and bow-ties by Max Pronko
The Ask Me Anything Episode 3: Magento 2 Future with Adobe, new website and CSS/LESS/VUE by Max Pronko
Что я выбрал как фронтенд сайта VueJS или ReactJS? by Max Pronko
Events
Advanced Magento 2 Backend Developer Training in London, UK on August 29-30, 2019
Mage Unconference in Cologne, DE on November 29-Dec 1st.
General
Magento Tech Digest #67 by Max Pronko
Magento vs Shopify – What is the Best Ecommerce Platform? by Mary D.
How to optimize your Magento UX to provide better customer experience by Irina Linnik
ONE Membership: How To Get Many Magento Themes, Plugins, And Much More For Less Than $200 by Firebear Studio
#MagentoMonday Community Digest 2019.07.15 by Sherrie
Where are all the Magento Certified Developers? by Sam Rutley
What Is Magento Killer and How You Can Protect Your Magento Stores? by Syed Muneeb Ul Hasan
Four Questions Parts Sellers Should Consider Before Replatforming by Jesse Tyler
Summing up
If you come across some Magento-related resources that you think are worth following, please share them with me, and I may include them in the Magento Tech Digest, too.
By the way, the training date is already set so I invite you personally to join it in London, on August 29-30. We will speak about backend development with Magento 2. Here is more information https://www.maxpronko.com/advanced-training-magento-2-backend-developer-london/ I'll be glad to meet you!