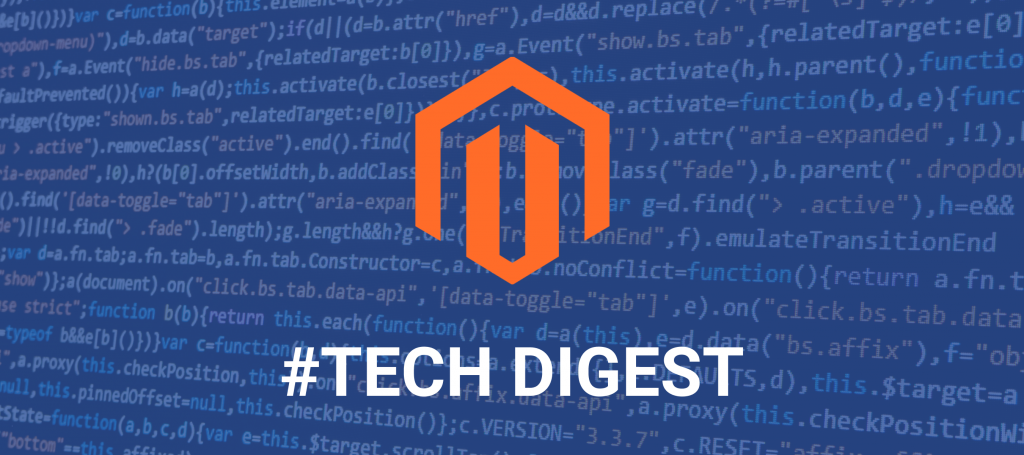 The Magento Tech Digest is the biggest collection of the resources dedicated to Magento development and related topics. Here, you can find opinions and recommendations of Magento professionals, various how-tos, product reviews, event announcements, video tutorials, and much more.

For Magento beginners, this is a great place to tap into the knowledge of development gurus. For experienced developers, this is an opportunity to find information on eCommerce innovations, discuss new tools and techniques. For anyone wishing to share knowledge and learn about the latest trends in Magento development, there are announcements of upcoming events.

Just click through the links and stay abreast of the latest news from the Magento universe!

In addition, browse the previous Magento Tech Digest #82.
Magento Tutorials
How to Show/Hide Order ID in Invoice, Shipment & Credit Memo PDF of Magento 2 by Gaurav Jain
Mage Mastery
I am thrilled to announce my new project. Mage Mastery is for developers by developers. Mage Mastery is a free learning resource for all topics related to Magento 2. Whether you want to learn backend or frontend of Magento 2 development, this is the place to go.

Release announcements of Mage Mastery by Max Pronko
01. Introduction by Max Pronko
02. Getting Started with Magento 2 by Max Pronko
03. Project Structure Overview by Max Pronko
PHP
How to Get Product Collection by Category Id in Magento 2 by BlogTreat
Magento 2 models & entities by Mark Shust
XML
How to Add a New Column in Admin_user Table of Magento 2 by Dhiren Vasoya
JavaScript
How to Display Full Order Summary in Checkout Shipping Step of Magento 2 by Gaurav Jain
CLI access to Magento Marketplace details by Jisse Reitsma
Magento conundrum: Vue or React? by Jisse Reitsma
Video
CMS Page Edit Status extension – Magento 2 Live Coding Stream #3 by Max Pronko
Getting Started with Magento 2 Open Source | Magento 2 for Beginners | Mage Mastery by Max Pronko
Magento DevChannel Stream #4 | November 2019 by Max Pronko
Lesson 3: Project Structure Overview | Magento 2 for Beginners | Mage Mastery by Max Pronko
I opened a Patreon account by Max Pronko
Adobe Stock Integration public meeting, 30th October 2019 by Magento Community Engineering
Magento Architectural Discussion — October, 30, 2019 by Magento Community Engineering
GraphQL: Bi-weekly Community Meeting – 10/03/2019 by Magento Community Engineering
GraphQL: Bi-weekly Community Meeting 10/31/2019 by Magento Community Engineering
Rumor Mill: Will Microsoft acquire Adobe? Plus Magento Live EU annoucements by
eCommerce Aholic Podcast
Events
Meet Magento Japan in Tokyo, JP on November 5th.
Meet Magento Asia in Bangkok, TH on November 7th.
Indore Magento Meetup #2 – Special Guest: Joseph Maxwell from SwiftOtter in Indore, IN on November 9th.
General
Magento Tech Digest #82 by Max Pronko
Top 4 B2B E-Commerce Platform in 2020 by Samantha Wallace
#MagentoMonday Community Digest 2019.10.28 by Sherrie
Provide Quality Support on Your Magento Website to Attain 95% of Satisfied Customers by SECRET_@
Master the Art of B2B Mobile Commerce with These 4 Tips by Michael Klein
Top Magento Mobile App Design and Development Mistakes We Keep Coming Across by Roberto Garvin
The Magento SEO Checklist for Setting Up Your Store by Laura Narušytė
Magento 1 vs. Magento 2 – Top 5 Reasons to Upgrade Going into 2019 by John Cymerman
eCommerce Personalization Is The Future by Isaiah Bollinger
Let Magento Kill You by Mark Shust
Summing up
If you come across some Magento-related resources that you think are worth following, please share them with me, so I can include them in the following Magento Tech Digest, too.
Also, I have some good news for Magento and DevChannel community, my followers and subscribers who watch my Youtube videos regularly. Now you can support me via Patreon. Please read more details on https://www.patreon.com/maxpronko