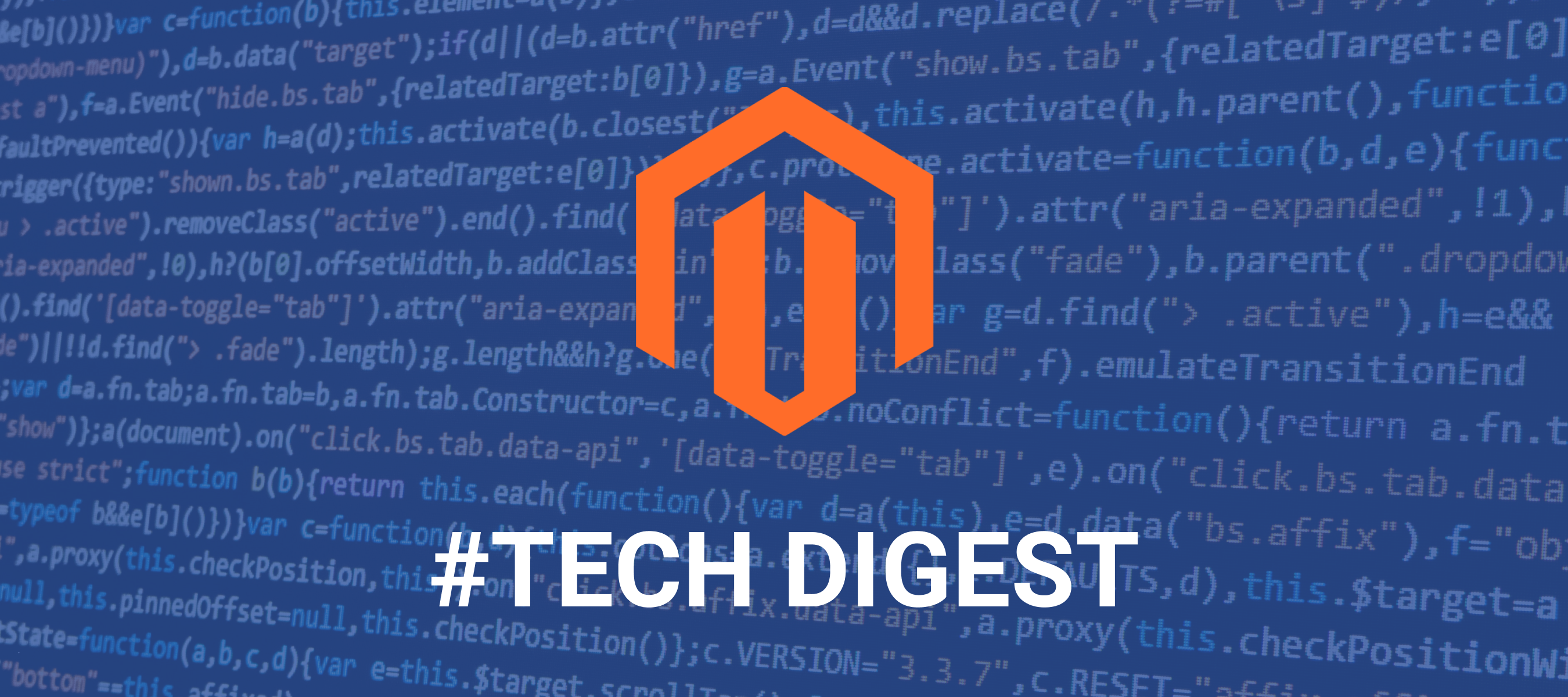 The Magento Tech Digest is the biggest collection of the resources dedicated to Magento development and related topics. Here, you can find opinions and recommendations of Magento professionals, various how-tos, product reviews, event announcements, video tutorials, and much more.

For Magento beginners, this is a great place to tap into the knowledge of development gurus. For experienced developers, this is an opportunity to find information on eCommerce innovations, discuss new tools and techniques. For anyone wishing to share knowledge and learn about the latest trends in Magento development, there are announcements of upcoming events.

Just click through the links and stay abreast of the latest news from the Magento universe!

In addition, browse the previous Magento Tech Digest #89.
Magento Tutorials
Programmatically Find Out Installed Magento 2 Version by BlogTreat
What is Magento Hosting? by Sergey Teteruk
How to Secure Your Magento Website From Brute Force Attack by Gaurav Jain
How to Configure Store Email Address in Magento 2 (The Ultimate Guide) by Gaurav Jain
How to install Magento 2 with Sample Data [Updated] by Gaurav Jain
How you can prepare your Magento store for traffic peaks! by Tom Ketels
Mage Mastery
I am thrilled to announce my new project. Mage Mastery is for developers by developers. Mage Mastery is a free learning resource for all topics related to Magento 2. Whether you want to learn backend or frontend of Magento 2 development, this is the place to go.
View Model in Magento 2 by Max Pronko.
PHP
How to Create Custom Order Status and State Programmatically in Magento 2 by Dhiren Vasoya
Example of Magento 2 Module with Conditions Model and Fieldset (Part 2) by Sergey Uchuhlebov
How to create a custom admin notification in Magento 2 by Dat Dong
Magento 2: Get Recently Viewed Product Collection of Customer by Rohan Hapani
My preferred CaptainHook setup (for Magento) by Stephan Hochdörfer
How To Create A Custom Shipping Method In Magento 2 by Vishal Lakhani
Import and Export
How to Import Products with Custom Attributes to Magento 2 by Firebear Studio
How to create a custom import in Magento 2 by Firebear Studio
How to Import Attribute Values with Commas to Magento 2 by Firebear Studio
Video
[Live Coding] Magento 2 CMS Page Edit Status extension by Max Pronko. Here are the details https://github.com/mcspronko/cms-page-edit-status
Adobe Stock Integration public meeting, 17th December 2019 by Magento Community Engineering
Cloud Docker public grooming – 12.18.19 by Magento Community Engineering
TOP 3 Features Shipping Suite Ultimate Extension by Max Pronko
A Day in the Life of a Remote Software Engineer in Dublin by Max Pronko
Experience with REST API vs Controller in Magento 2 by Max Pronko
API and Classes in a Magento 2 Extension by Max Pronko.
Events
Advanced Magento 2 Developer Training in London, UK on January 30-31, 2020
MageDerby online on February 7-8th.
General
Magento Tech Digest #89 by Max Pronko
How To List Products On Amazon With Amazon Sales Channel In Magento by Magento
Why Magento is the Best Platform for Enterprises? by Marie Weaver
Atwix MageNews – December 2019 by Roman Glushko
Summing up
If you come across some Magento-related resources that you think are worth following, please share them with me, so I can include them in the following Magento Tech Digest, too.