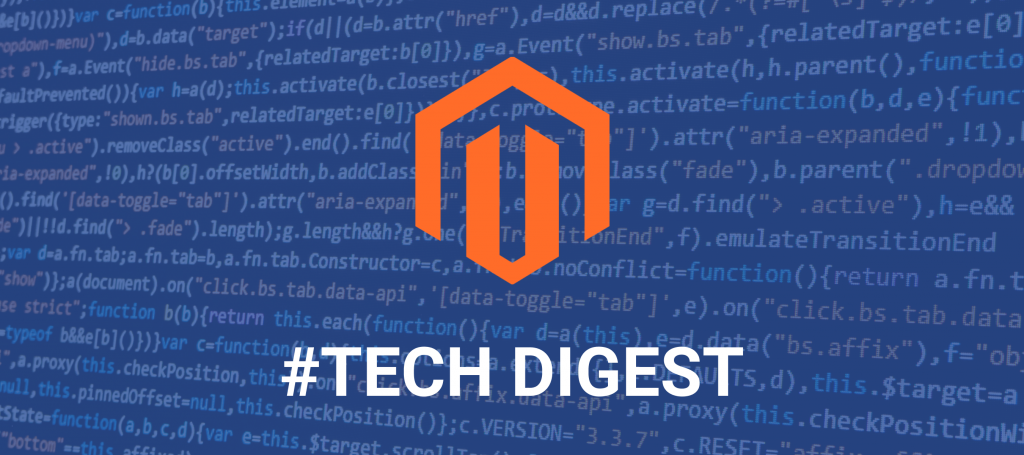 The Magento Tech Digest is the biggest collection of resources dedicated to Magento development and the related topics. Here, you can find opinions and recommendations of Magento professionals, various how-tos, products reviews, event announcements, video tutorials, and much more.

For Magento beginners, this is a great place to tap to the knowledge of development gurus. For experienced developers, this is an opportunity to find information on eCommerce innovations, discuss new tools and techniques. For anyone wishing to share knowledge and learn about the latest trends in Magento development, there are announcements of upcoming events.

Just click through the links and stay abreast of the latest news from the Magento universe!

In addition, browse the previous Magento Tech Digest #57.
Magento Tutorials
Magento 2: Get Associated Simple Products from Configurable Product by BlogTreat
How to manage Custom amount with PayPal Express Checkout in Magento 2 by MageComp
How To Optimize Magento Speed And Performance? by MageComp
How to Get IP Address of Magento 2 Visitor by Sanjay Jethva
Assign custom theme programmatically to store in Magento 2 by Qaisar Satti
Local composer development with Magento 2 by Jisse Reitsma
Install Magento 2.3.x with windows + PHP 7.2.3 by Mr. Jute
Import and Export
Sage Intacct Overview & Magento 2 Integration by Firebear Studio
Crunched Overview & Magento 2 Integration by Firebear Studio
Kashoo Overview & Magento 2 Integration by Firebear Studio
Avalara Overview & Magento 2 Integration by Firebear Studio
Magento Community Updates
Community Engineering Newsletter, April 22 – 26, 2019 by lkrell
Community Insider Program Year in Review by Community Insider Program Team
Why You Should Test Your "Tried and True" eCommerce Features by Magento
Video
Do you know Magento 2 UI Components well enough? by Max Pronko
Deployment Automation for Magento 2 Projects by Max Pronko
API and Classes in a Magento 2 Extension by Max Pronko
Disadvantages of Service Oriented Architecture in Magento 2 by Max Pronko
Magento Imagine 2019 by Max Pronko
Magento Async Import #16 – Prototypes (May 8th, 2019 Community Meeting) by Magento Community Engineering
Magento Architectural Discussion — May 8, 2019 by Magento Community Engineering
Live: Key to Imagine by eCommerce-Aholic
Events
Let's meet at Magento Imagine 2019 by Pronko Consulting
Get Ready to Party During Magento Imagine With NexcessLive by Nexcess
Magento Community Speaker Workshop by Sherrie Rohde
General
Magento Tech Digest #57 by Max Pronko
Why I Contribute? by lkrell
Magento 2 API updates: new query language by Mihail Shagoiko
#MagentoMonday Community Digest 2019.05.06 by Sherrie
Summing up
If you come across some Magento-related resources that you think are worth following, please share them with me, and I may include them in the Magento Tech Digest, too.
If you haven't got your ticket on the upcoming Magento 2 Developer training in New York City, hurry up to reserve your seat! I'll be happy to meet you soon!