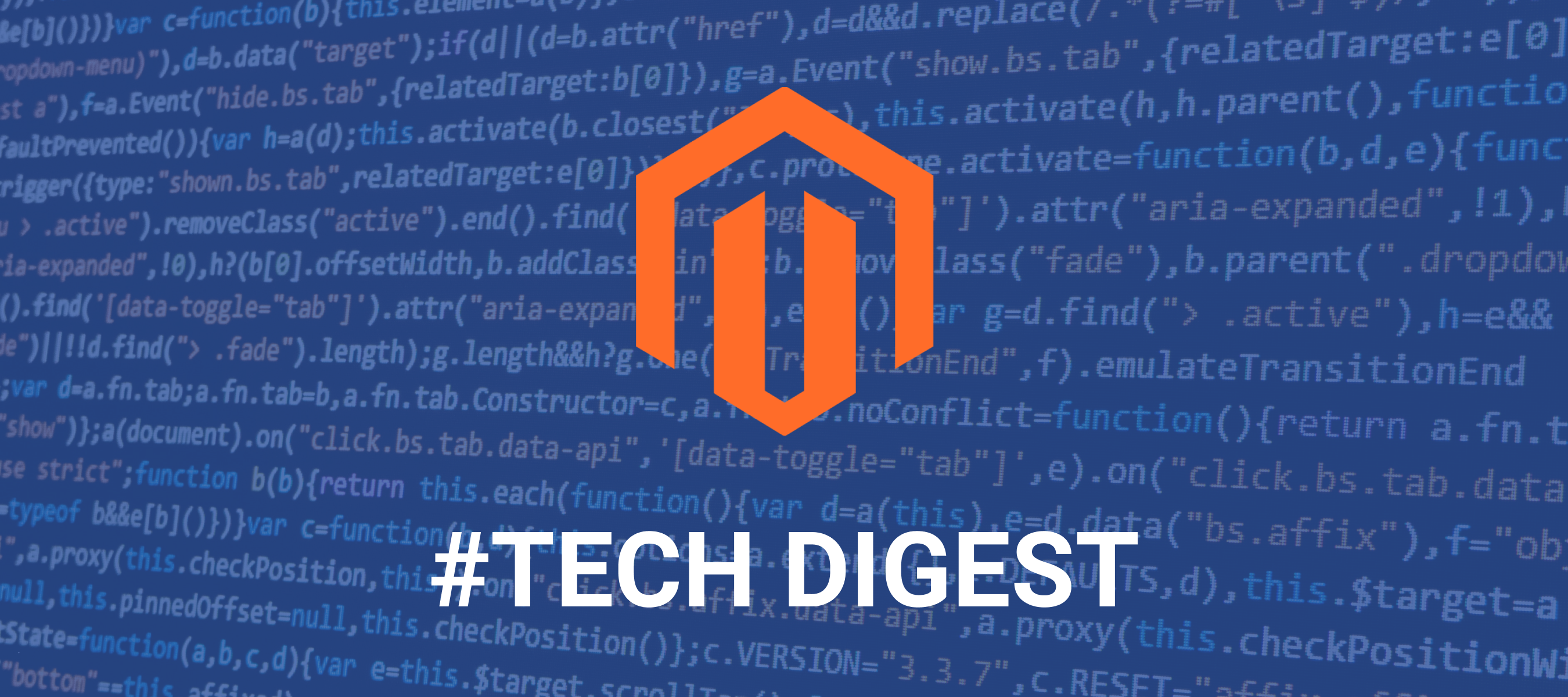 The Magento Tech Digest is the biggest collection of the resources dedicated to Magento development and related topics. Here, you can find opinions and recommendations of Magento professionals, various how-tos, product reviews, event announcements, video tutorials, and much more.

For Magento beginners, this is a great place to tap into the knowledge of development gurus. For experienced developers, this is an opportunity to find information on eCommerce innovations, discuss new tools and techniques. For anyone wishing to share knowledge and learn about the latest trends in Magento development, there are announcements of upcoming events.

Just click through the links and stay abreast of the latest news from the Magento universe!

In addition, browse the previous Magento Tech Digest #86.
Magento Tutorials
Payment Integration in Magento 2 by Max Pronko
How to install the official Magento 2 language pack by Andreas von Studnitz
Magento 2: Create admin grid and form without UI component by Rohan Hapani
Mage Mastery
I am thrilled to announce my new project. Mage Mastery is for developers by developers. Mage Mastery is a free learning resource for all topics related to Magento 2. Whether you want to learn backend or frontend of Magento 2 development, this is the place to go.

Magento 2 Template via Layout Rendering | Mage Mastery | Lesson 6 by Max Pronko
PHP
Missing write permissions to the following directories: 'pub/media' in Magento2 by Mr. Jute
How to create a GraphQL Mutation Endpoint for Magento 2.3 by Lars Roettig
XML
How to Create Custom Sales Rule Condition in Magento 2 by Dhiren Vasoya
PWA
PWA Studio – is it ready to use in on production? by Marcin Kwiatkowski
What is Magento PWA app manifest? How to configure it? by Sagar Panchal
JavaScript
How to extend a Javascript Widget in Magento 2 by Vincent Dinh
Import and Export
Magento 2 Backend Exploration: User Content & Reviews by Firebear Studio
Magento 2 Backend Exploration: CMS Pages by Firebear Studio
Magento 2 Backend Exploration: CMS Blocks by Firebear Studio
How to Import Database in Magento 2 by Firebear Studio
Video
[Live Coding] Magento 2 CMS Page Edit Status extension by Max Pronko
How to add a Bootstrap CSS for Your Magento 2 Theme by Max Pronko
Magento Open Source 2.3.3 Highlights by Max Pronko
AWS SES for Transactional Emails in Magento 2 by Max Pronko
Unit Testing changes in di xml Magento 2 by Max Pronko
Magento 2 и PHP разработка by Magento 2 – просто и понятно с Максом Пронько
Adobe Stock Integration public meeting 26th Nov 2019 by Magento Community Engineering
Events
Advanced Magento 2 Developer Training in London, UK on January 30-31, 2020
Meet Magento Greece 2019 in Athens by Paulina Z.
Blick hinter die Kulissen eines grossen Schweizer Beauty-Versandhändlers in Uetendorf, CH on December 12th.
Magento Contribution Day Dublin in Dublin, IE on December 14th.
General
Magento Tech Digest #86 by Max Pronko
Top Magento Mobile App Design and Development Mistakes We Keep Coming Across by Roberto Garvin
Product Results in Google Search Console for Magento Stores by Vasili Nikolaev
Why Choose Magento For Ecommerce Development? by Kalpesh Maheshwari
Summing up
If you come across some Magento-related resources that you think are worth following, please share them with me, so I can include them in the following Magento Tech Digest, too.