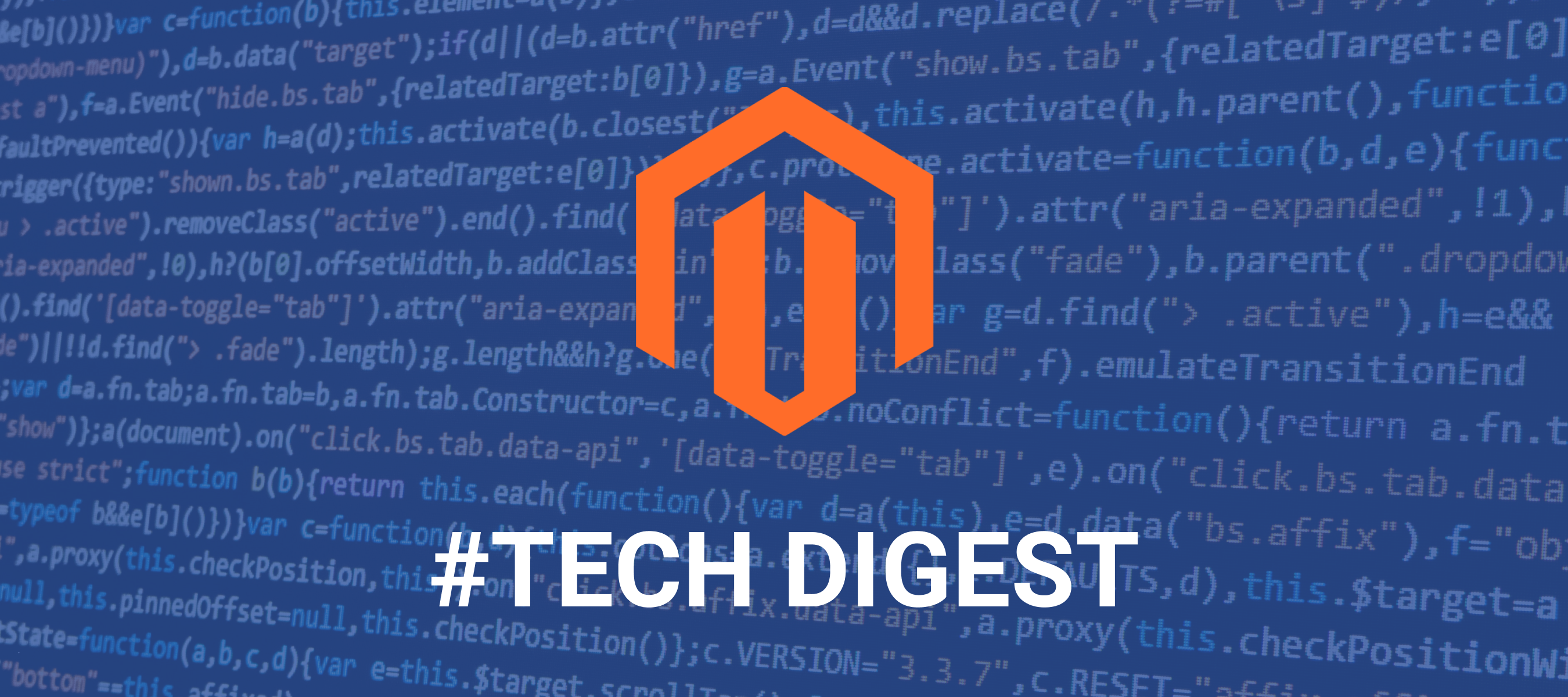 The Magento Tech Digest is the biggest collection of the resources dedicated to Magento development and related topics. Here, you can find opinions and recommendations of Magento professionals, various how-tos, product reviews, event announcements, video tutorials, and much more.

For Magento beginners, this is a great place to tap into the knowledge of development gurus. For experienced developers, this is an opportunity to find information on eCommerce innovations, discuss new tools and techniques. For anyone wishing to share knowledge and learn about the latest trends in Magento development, there are announcements of upcoming events.

Just click through the links and stay abreast of the latest news from the Magento universe!

In addition, browse the previous Magento Tech Digest #87.
Magento Tutorials
How to Configure Content Management in Magento 2 by Gaurav Jain
Magento 2 Advanced Product Options: New Features Explained by Ellie Yantsan
How to Speed Up a Magento 2 Website Using Google Search Console FCP Report by Alex Husar
Mage Mastery
I am thrilled to announce my new project. Mage Mastery is for developers by developers. Mage Mastery is a free learning resource for all topics related to Magento 2. Whether you want to learn backend or frontend of Magento 2 development, this is the place to go.

Magento 2 Passing Data from Controller to Template | Mage Mastery Lesson 7 by Max Pronko
PHP
How to Delete directory in Magento 2 Programmatically? by Rakesh Jesadiya
How to create a directory in Magento 2 Programmatically? by Rakesh Jesadiya
How to verify is Directory exists at specific path Magento 2? by Rakesh Jesadiya
How to Add Column with Filter to Magento 2 Orders Grid? by Sergey Uchuhlebov
How to create a Custom Widget in Magento 2 by Ling Phung
Magento 2 : Get Product Image URL in REST API by Rohan Hapani
Create admin grid and form in Magento2 by Pridee Web
XML
How to Create Custom Page Layout in Magento 2 by Dhiren Vasoya
Import and Export
Magento 2 Backend Exploration: Widgets by Firebear Studio
Magento Community Updates
Magento 2.4 Open Source, Commerce & Cloud: What to Expect by Firebear Studio
Getting Ready for Magento 2.4 release by Filip_maj1
Video
Amazon Clone using Magento 2 by Max Pronko
Adobe Stock Integration public meeting 3rd Dec 2019 by Magento Community Engineering
PWA Studio Community Meeting December 6th, 2019 by Magento Community Engineering
Magento DevChannel Community Invitation by Max Pronko
Improved Import Export by Firebear Studio Review – EP 3 by Max Pronko
Shipping Method per Category Extension for Magento 2 by Max Pronko
Как я стал Magento/PHP программистом / #itstory2019 by Magento 2 – просто и понятно с Максом Пронько
Events
Advanced Magento 2 Developer Training in London, UK on January 30-31, 2020
Squashtoberfest 2019 Winners by Filip_maj1
M2NGP01: Profiling, AEM, DevOps, GraphQL and Declarative Schema with Magento2 in Nagpur, IN on January 4th.
Vision 2020: Let's talk about the future of Magento! in Delray Beach, FL on January 30th.
General
How I Started – Journey to Magento by Max Pronko
Magento Tech Digest #87 by Max Pronko
Magento vs Zen Cart – What Solution is the Best? by Diana Zevan
How a Content Delivery Network (CDN) Impacts Your Magento 2 Store by Deana Kovač
#MagentoMonday Community Digest 2019.12.02 by Sherrie
Magento vs Prestashop – Which is best for Multistore Development? by Mira Adora
Magento Performance Optimization by Victoria Kurilchik
Summing up
If you come across some Magento-related resources that you think are worth following, please share them with me, so I can include them in the following Magento Tech Digest, too.