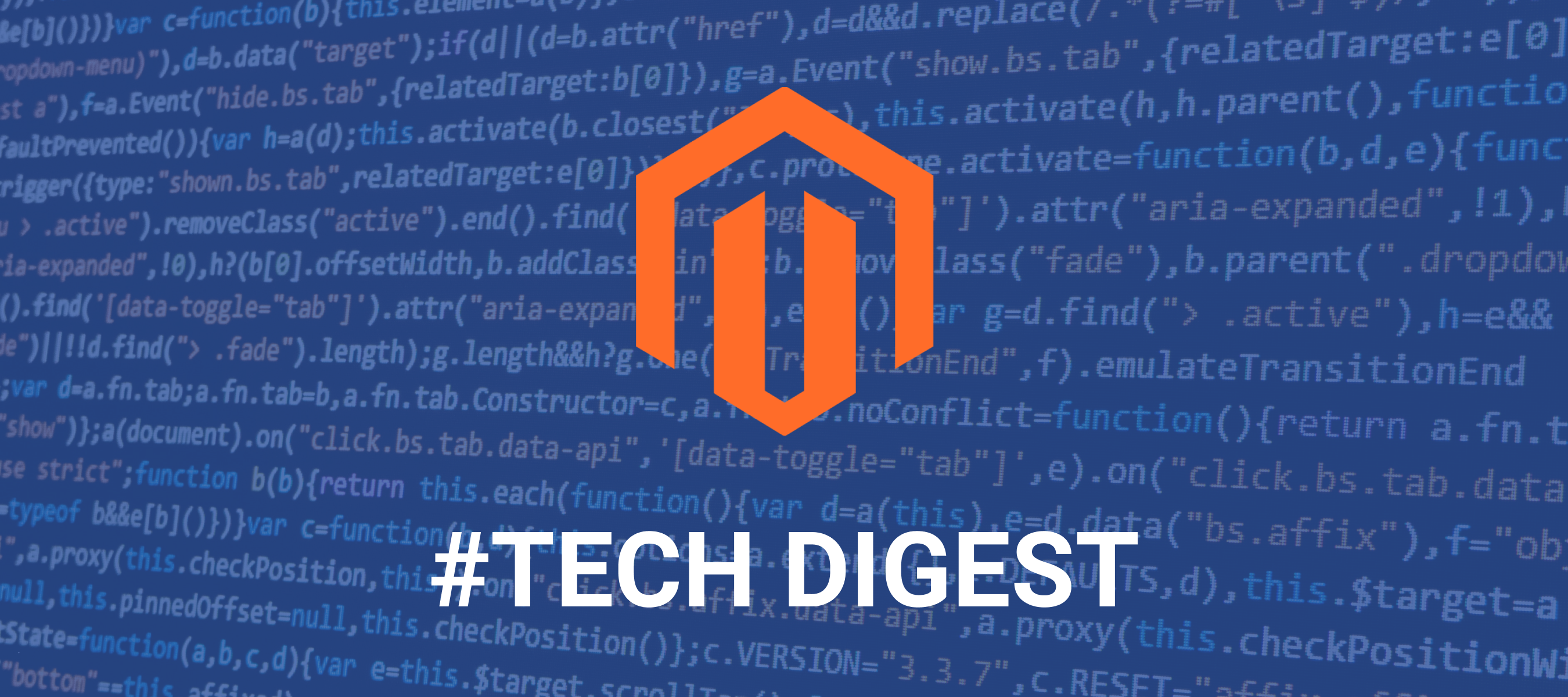 The Magento Tech Digest is the biggest collection of the resources dedicated to Magento development and related topics. Here, you can find opinions and recommendations of Magento professionals, various how-tos, product reviews, event announcements, video tutorials, and much more.

For Magento beginners, this is a great place to tap into the knowledge of development gurus. For experienced developers, this is an opportunity to find information on eCommerce innovations, discuss new tools and techniques. For anyone wishing to share knowledge and learn about the latest trends in Magento development, there are announcements of upcoming events.

Just click through the links and stay abreast of the latest news from the Magento universe!

In addition, browse the previous Magento Tech Digest #91.
Magento Tutorials
6 Best Courses to Quickly Master Magento 2 in 2020 by Pronko Consulting
How to configure multiple websites, multiple store views in Magento 2 by Sam Nguyen
Magento 2: Allow backend run in frame by Elpas0
Unqualified and fully qualified name usage in code by Mark Shust
Updating the Magento Cloud metapackage with Composer by Mark Shust
Resolving 'upstream sent too big header' error for Nginx by Mark Shust
How to set up taxes in Magento 2 by Toni Anicic
Mage Mastery
I am thrilled to announce my new project. Mage Mastery is for developers by developers. Mage Mastery is a free learning resource for all topics related to Magento 2. Whether you want to learn backend or frontend of Magento 2 development, this is the place to go.

Model in Magento 2 by Max Pronko
PHP
90% of Magento websites are running on unsupported PHP versions. Why is this a problem and how can you (we) solve it? by Aron Stanic
Is PHP 7 capable of transforming Magento Development? by Ethan Millar
Extensions
Magento 2 Converge Elavon payment improvements in 2020 by Pronko Consulting
Video
2019 in Review + New Year 2020 Gift for You by Max Pronko
Declare Composer Dependencies in Magento 2 module by Max Pronko
TOP 11 Web Development Trends in 2020 by Max Pronko
Empowering Magento with Vue Storefront – Interview with Jisse Reitsma by
Vue Storefront
If you're burned out on a legacy Magento codebase, move to working on a more modern Magento stack by Commerce Hero
Leveling Up From Shopify With React To Magento by Commerce Hero
Magento 2 Service Isolated Architecture by Max Pronko
How to change Layout Type in Magento 2? by Max Pronko
Add Template to Layout in Magento 2 by Max Pronko
Как я стал Magento/PHP программистом / #itstory2019 by
Magento 2 – просто и понятно с Максом Пронько
Events
Advanced Magento 2 Developer Training in London, UK on January 30-31, 2020
General
Magento Tech Digest #91 by Max Pronko
The Divante guide to Magento software by Ola Mazur
Adobe's Magento Commerce Cloud Is Actually Underrated by Isaiah Bollinger
Best practices for Magento homepage design by Zoran Vorkapic
Magento vs WooCommerce vs Shopify vs OpenCart: best eCommerce platforms 2020 by Amit Samsukha
What are some comparisons between Magento 1.x and Magento 2.0? by Ashutosh Sonker
Magento eCommerce Explained: Our Expert Advice by Ron Dod
Summing up
If you come across some Magento-related resources that you think are worth following, please share them with me, so I can include them in the following Magento Tech Digest, too.
If you have been thinking about gaining new knowledge and practical skills using Magento 2, this is great opportunity to jump into a 2-day training with a lot of practical advices, real cases, and up-to-date information. I will be happy to see you at my author training and glad to answer all your Magento-related questions. Request your place now!